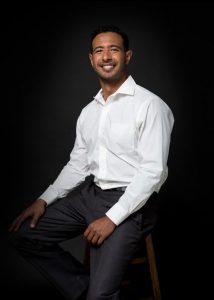 Dr. Rami attended the University of Detroit Mercy, where he graduated with a bachelor's degree in biology. Dr. Rami then went to dental school at Temple University in Philadelphia, where he excelled in all aspects of dentistry. Early in his career, he worked for an implant specialist who mentored him in some of the most advanced dental cases. Upon graduation, he won an award for his exceptional work with implants and crowns.
Dr. Rami then completed a dual residency at the VA hospital of Pittsburgh and the University of Pittsburgh Medical Center. The residency allowed him to receive advanced training in dental implants, root canals, sedation, sleep apnea treatments and many other areas of specialized dentistry. Dr. Rami was fortunate to have served the VA community and all those that help protect our country and allow us to live safely.
He is extremely thankful to have been mentored by some of the most experienced and sought-after specialists in the dental community. Dr. Rami hopes to bring this level of excellence to Michigan. Dr. Rami's mission is to raise his patients' expectations.
Dr. Rami is the oldest of four children and grew up in the Metro Detroit area. In addition to dentistry, he enjoys working out and trying new sports.
Meet Our Team
When you visit Livonia Smiles Dental Center, your smile will be in excellent hands. Our dental team is extremely efficient and well-trained. At the same time, they are friendly and helpful and will make you feel like family during every visit. Our team members speak English and Arabic to meet the diverse needs of our community. We invite you to call our office for your dental appointment in Livonia or Troy, Michigan, to meet our dentist and team in person and explore the possibilities for your smile.
Check back soon to meet our team.